Copperas Creek Creations
Handwoven Rugs
Made in the USA!

My rugs are made from a combination of purchased material and recycled. Custom orders are welcome. Rug widths are 28" to 29" and can be made any length you need. Prices are $1.25 to $1.30 per inch length-wise. Pricing is determined on how much new fabric has to be purchased to achieve the colors you need to match your own personal decor. Periodically, I will offer placemats as well as table runners. They are currently $1.25 an inch length-wise. All of my creations are woven on a vintage Newcomb Studio Art floor loom.
If you have questions, please feel free to email me at alot2do@copperascreek.com

Below are some examples of rugs, placemats & runners I've made.

Item 1
Brown, Hunter Green & Tan

Item 2
Coral, Light Blue & Gray

Item 3
Gray, Black & White

Item #4
Turquoise, Red & Yellow



Item #5
Turquoise, Brown & Tan



Item #6
Navy & Tan



Item #7
Red, Green & tan rug with matching rug.




Item #8
Placemats


Item #9
Brown, Black & Tan Runner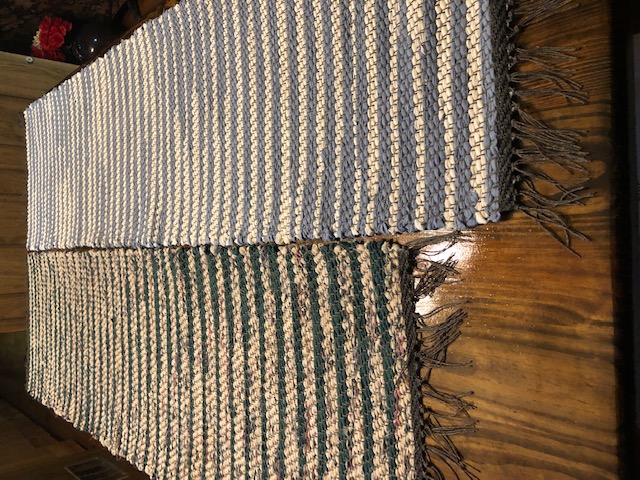 Item #10
Two runners.

Copperas Creek Creations © 1995 All Rights Reserved
The contents and photos on this web site are the intellectual property of Copperas Creek Creations and may not be reproduced without written permission.