Copperas Creek Creations
Made in the USA!
All of the products within this website have been created by hand from 100% (unless otherwise stated), repurposed, safe pallet wood. Each pallet is dismantled and denailed by me. Sometimes I like to leave the nail heads in for the rustic charm. Next it is either planed or sanded one board at a time. I use stains, some homemade, different types of paints including chalk paint and enjoy making things with the distressed look. With certain items I can do a variaty of color combinations to fit your personal decor. Just ask. Rarely are two items identical since I use various types of woods and each react differently to stains, paints and varish. Custom orders welcome with 50 % down. I am currently working on shipping fees.
Please be sure to add this page to your Favorites folder or Bookmark it since I will be adding new things as I build them. If you have questions, please feel free to email me at alot2do@copperascreek.com
Signs:

| | | |
| --- | --- | --- |
| Item 1 $30 | Item 2 $35 | Item 3 $35 |
| Item 3 at top and 4 on bottom $25 each | Item 5 $30 | Item 6 on top and 7 on bottom $25 each |
| Item 8 $25 | Item 9 $30 | Item 10 $30 |
| Item 11 $30 | Item 12 $25 | Item 13 $30 |
| | | |
| | | |


Fall Decor:



Natural Pumpkin 12 1/2" x 13 1/2

" that you can paint or decorate yourself.




$10


Large Natural Pumpkin 18 3/4 " x 17" that you can paint or decorate yourself.
$15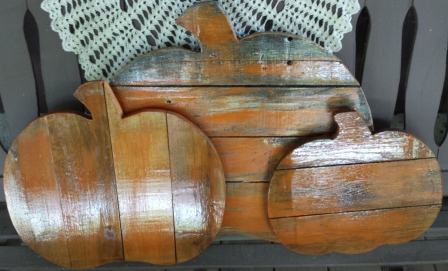 Finished Pumpkins
11 3/4" x 10 3/4" $20
12 1/2" x 13 1/2" $25
18 3/4" x 17" $30
Scarecrows
Four Boards Wide Measure 31" x 13 1/2" $35
Three Boards Wide $25
I can do these in the hat color of your choice.
Below is what one customer did with a larger scarecrow.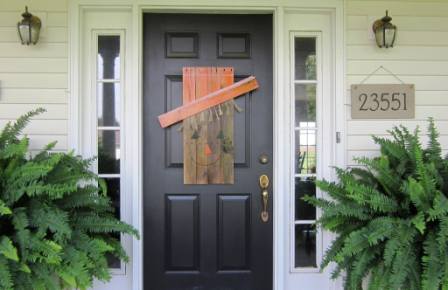 Fall Decoration Box on left and Halloween Treat Box on right.
Pumpkin measures approximately 20 " wide x 18" tall. Box measures approximately 19 1/2 " wide x 4 1/2" tall.
Box without lettering $35 With $40
(This is an example of how different woods react differently to the same stain.)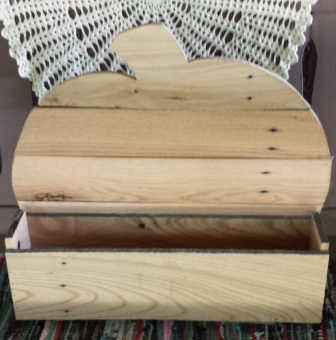 Box that you can decorate or paint yourself. $30
Large
Left to Right:

Natural Wooden Tree Approximately 20" wide x 53" tall $65
Large Finished Wooden Tree with hand cut Wooden ornaments 44" wide x 53" tall $75
Medium Tree with Lights 41" wide x 53 1\2" tall $55
Smaller Glitter Tree 18" wide x 43" tall $45
Left to Right:
Solid colored sleds $40
Flag sleds $45
Snowman $40
Left to Right:
Santa 18" wide x 29" tall $25
Santa 12 3/4" wide x 15" tall $30
Santa Vinyl Lettering on Wood $35

Below are examples of the photo to wood transfers I am offering. I can do them for all occasions. Weddings, births, birthdays, etc. The photos themselves are approximately 11" wide by 8". To do this I need a digital photo that has not been edited. $35 to $40 - $5 extra to add vimyl lettering to personalize each one.
Patriotic:
Flags 37 1/2" x 20" $45
You pick the design you like best.
Can make larger sizes.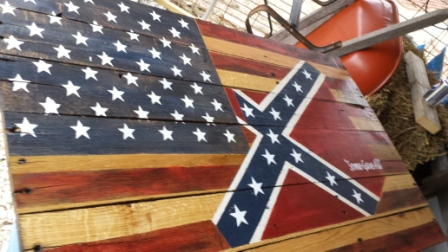 This is a combination flag. The wording on it says "Some Gave All"
Approx. 40" wide x 24" tall. $75
General Home Decor:
Wine Racks $45
Approximately 39" wide and hold 6 wine glasses underneath.
The one on the left has been stained with homemade stain and the one on the right is natural wood that hasn't been clear coated yet. These are very sturdy.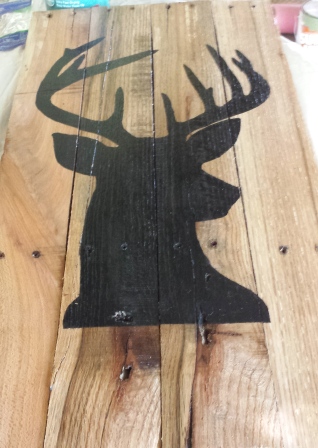 Deer Silhouette 28 1/4" x 14 1/4" $40
This can be personalized with vinyl wordage of your choice.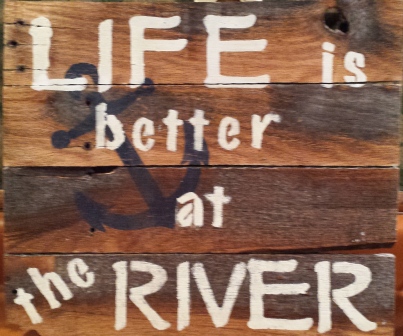 Life at The River Sign 16 1/4" x 14" $30
(More signs to be posted very soon!)
Hanging hareware is not included and Copperas Creek Creations is not responsible for improper hangings or damages as a result. Some of these items may be heavy. Please take care in hanging and protecting your walls from scratches since these are made out of wood. I like to use the little, felt pads that are for protecting floors when hanging on walls. You can find them at any WalMart store.

If you came here looking for miniature donkeys, we still have a few available to good homes only. Sadly, we are dispersing our herd. I want to thank all of our friends that our donkeys now reside with.
Copperas Creek Creations © 1995 All Rights Reserved
The contents and photos on this web site are the intellectual property of Copperas Creek Creations and may not be reproduced without written permission.